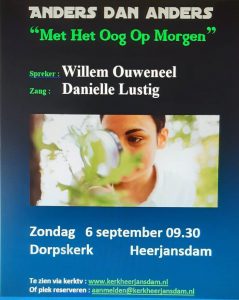 ANDERS DAN ANDERSDIENST
6 september
Spreker: Willem Ouweneel
Muzikale begeleiding: Danielle Lustig
Thema "Met het Oog op morgen"
Als thema hebben wij deze keer bedacht " Met het Oog op morgen", nadat we onze zorgen naar elkaar
hadden uitgesproken over onze gemeente, maar ook hoe wij er zelf instaan. We missen de gemeenschap
en het zingen met elkaar.
In coronatijd is er een situatie ontstaan van thuis digitaal onze erediensten meekijken op door ons gekozen
tijdstippen. En nu we weer onze diensten op zondagochtend mogen bezoeken, merken we dat de mensen
ze aan zich voorbij laten gaan. We kijken ze wel digitaal mee, of kijken ze later terug, maar Gods huis
bezoeken dat gebeurt maar door een kleine groep. Hebben we angst voor Corona of laten we God los en
vinden we het wel oké zo? We horen ook van gemeenteleden dat bidden ook als moeilijk wordt ervaren.
We mogen weten dat God nooit los laat.
Hoe gaat het in de toekomst worden met het oog op morgen. Ook de jeugd vind het steeds lastiger om de
kerk met hun ouders te bezoeken. Geen diensten bezoeken maakt het gevoel van verbinding en samen
gemeente zijn onzeker. Soms voelt het of het vuur uit ons geblust is met de coronatijd. We missen elkaar,
we willen en moeten elkaar bemoedigen, maar hoe dan.
Onze harten moeten weer open naar God toe, we moeten in gebed voor onszelf en onze broeders en
zusters. Maar hoe dan? We hopen dat de heer Ouweneel ons meer kan vertellen over wat de Bijbel ons
aanbiedt in deze lastige tijd, waar we de kracht vandaan moeten halen om het vuur en de passie voor onze
Hemelse Vader weer dagelijks in ons te ervaren. En hoe we als kerk daarmee om moeten gaan.
We hopen u te ontmoeten en weer te ervaren hoe fijn het is om bij elkaar te zijn.
Lieve groet Liesbeth, Maria en Marja