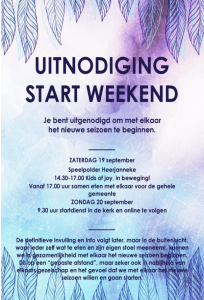 Gemeente picknick:
Op zaterdag 19 september willen we elkaar ontmoeten tijdens het startweekend van onze gemeente Wat zal het leuk zijn om elkaar weer even te zien en te spreken op een ongedwongen en coronaproof manier in de buitenlucht.
Hoe? Kom vanaf 17 uur naar speelpolder Heerjanneke (bij de rotonde bij de Randweg) en neem je eigen stoel of kleed mee om op te zitten. Ook een lekker hapje en wat te eten neem je zelf mee. Wij zorgen voor wat te drinken en een gezellige ontmoetingsplek.
Op die manier kunnen we eenvoudig en op afstand een gezellig tijd met elkaar hebben. Je kunt natuurlijk je eten delen met anderen, maar ook gewoon opeten wat je zelf hebt meegenomen.
Opgeven van tevoren hoeft niet. Wel heel fijn als we elkaar aanmoedigen en uitnodigen voor deze activiteit. Kan je iemand even helpen om er te komen? Of iemand uitnodigen voor deze gemeente picknick? Laat je gedachten er eens over gaan.
We zien iedereen graag op zaterdag 19 september!!