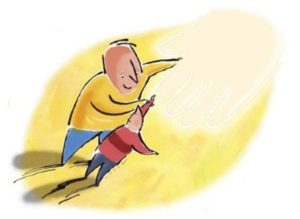 Ben je vader of moeder van een jong of opgroeiend kind of tiener? Geef je leiding in het kinder- tiener of jongerenwerk? Heb je juist als opa of oma met kinderen te maken? Ongetwijfeld loop je dan soms tegen opvoedingsvragen aan. Of meer specifiek: geloofs-opvoedingsvragen.
Op vrijdagavond 24 maart vindt in de Dorpskerk een 'vrijdagavondgesprek' plaats met als titel 'Geloven in opvoeding'. Na een plenaire start en inleiding kun je deelnemen aan een openhartig gesprek in kleinere setting; waarin we van en aan elkaar leren. De Jeugdkerkenraad organiseert en begeleidt deze avond, en zorgt voor koffie, thee, koek, en een hapje en drankje
Opzet
19.45 uur inloop, koffie en thee
20 uur: opening, inleiding
20.45 uur: gesprek in kleine groepen
Ca 22 uur: afronding
Meld je aan bij Barbara Jongebreur, via bsteen1977@gmail.com of 06-10888749. Maak daarbij een rangschikking van onderwerpen – zie hieronder – die wat jou betreft zeker aan de orde moeten komen van 5 punten = heel belangrijk tot 1 punt = minder belangrijk; onderwerp met de meeste punten komt sowieso aan de orde
Wil je wel komen, maar heb je geen oppas? Neem dan toch contact op; dan helpen we zoeken naar een oplossing
Mogelijke onderwerpen: geef aan: 5 = heel belangrijk tot 1 = onbelangrijk
punten
Mijn kind en zijn/haar leefwereld die mij zorgen baart? School, vrije tijdsbestedingen, games, tv, internet, jeugdjournaal-onderwerpen, onze post-christelijke cultuur
Hoe blijf ik over geloof communiceren met mijn opgroeiende kind?

Wat komt er in de plaats voor 'vaste momenten' die ophouden, zoals bidden voor het slapengaan
Mijn kind wil dit niet meer
vrienden geloven niet

Van huis uit: wat heb ik zelf van huis uit meegekregen en hoe beïnvloedt dat de wijze waarop ik mijn eigen kind met geloof opvoedt?
Hoe ga ik om met 'moeilijke vragen' van mijn kind: rond dood, ziekte, morele dilemma's, ongeloof, waar komen kinderen vandaan – lichaam lijf en seks, etc
Kerk en kerkelijke activiteiten: kunnen we nadenken over een andere vorm van kerk-zijn, van kerkdiensten houden, die meer passen bij mijn kind en bij ons gezin?