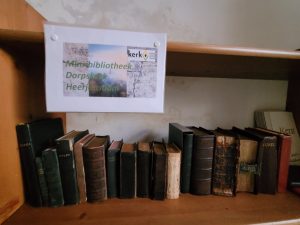 Een minibibliotheek is een plek waar iedereen gratis boeken kan lenen of ruilen.
We zien ze zo af en toe wel eens bij gewone woonhuizen in de voortuin aan de stoep staan.
Middenin de kinderboekenweek 2022 opent de 'minibibliotheek Dorpskerk' vanaf dit weekend haar planken.
Je kunt hier gratis boeken meenemen, en mag zelf bepalen of je ze wilt houden of niet.
Ook kun je hier boeken die je overhebt brengen, mits ze in minimaal redelijke staat verkeren.
We denken aan boeken in categorieën passend bij de aard van onze christelijke geloofsgemeenschap, bijvoorbeeld (kinder-)Bijbels, theologie, godsdienst, christelijk geloof, christelijke kinderboeken e.d.
Via enkele adressen ontvingen we al diverse dozen met boeken die een plek hebben gekregen.
Er staan nu onder meer theologische boeken, spiksplinternieuwe Bijbels-in-Gewone-Taal, maar ook Bijbeltjes van ruim een eeuw oud.
Kijk gerust rond of er iets van je gading is, of vul aan vanuit je eigen boekenkast.
De minibibliotheek is in ieder geval geopend rond zondagse kerkdiensten.
Over ca. een half jaar bekijken we hoe het loopt.
Mede namens Jan en Sjanie Schop en Alex Leinenga,
ds. Sjaak Teuwissen