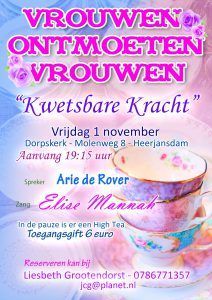 Vrijdagavond 1 november is er weer een vrouwenavond in de Dorpskerk, Molenweg 8 te Heerjansdam. Dit keer voor de verandering een mannelijke spreker, n.l. Arie de Rover.
Arie de Rover is spreker, schrijver en coach. In 2012 verscheen zijn boek Leven na de genadeklap, over hoe hij een tiental jaren ervoor een klap moest meemaken om uit overgave en genade te gaan leven. Voor die omwenteling was Arie jarenlang een succesvol manager en trainer in het bedrijfsleven.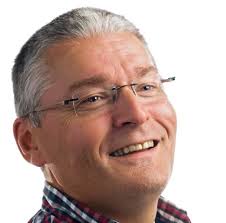 Na de omkeer in zijn leven werd hij trainer, coach en spreker op het gebied van identiteitsvragen. Arie is getrouwd en heeft samen met zijn vrouw Joke vijf kinderen.
Ontzettend blij zijn we met Elise Mannah, die deze avond de zang gaat verzorgen. Zij is een geweldige zangeres en regelmatig te zien bij Nederland Zingt.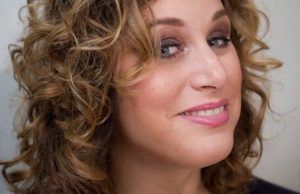 Elise: "Ik kan er elke keer verbaasd over zijn wat een liedje met mensen kan doen. Dat is echt wonderlijk en mooi." Zangeres Elise Mannah zingt graag over liefde, hoop, geloof en over het leven van alledag. "Als ik geraakt word door een verhaal, kan ik een paar uur later een liedje hebben. Maar het kan ook ploeteren zijn, hoor…"
Natuurlijk zorgen wij weer voor een High Tea in de pauze.
Kom naar deze avond en neem je buurvrouw, of vriendin mee die deze avonden niet kent en nog nooit geweest is. Of misschien is het voor jou wel de eerste keer.
Graag  van te voren kaarten reserveren bij Liesbeth Grootendorst  Email jcg@planet.nl of bel 078 6771357
Toegangsgift is 6 euro.