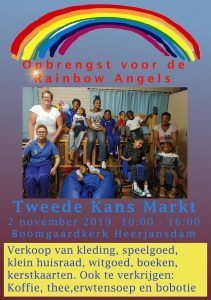 Rainbow Angels Tweede Kans Markt – vooraankondiging
Terwijl we hier langzaam richting herfst en winter gaan, gaat het in Zuid-Afrika weer richting zomer. Tijd voor buitenactiviteiten voor de Rainbow Angels en omdat het project dankzij de nieuwe school steeds meer kinderen opvangt, is er ook meer geld nodig om daar iets moois van te maken. Ook willen we geld inzamelen om voor Quetin een nieuwe aangepaste rolstoel te kunnen aanschaffen. Door zijn spierziekte dreigt hij namelijk steeds schever te groeien.
Met die winter in het achterhoofd willen we zaterdag 2 november naast de Tweede Kans Markt ook een hartverwarmende erwtensoep actie houden. Dus zet die dag vast in de agenda!
Op de markt in de Boomgaardkerk kunt u weer terecht voor kleding, speelgoed, klein huisraad en klein witgoed, kerstkaarten, boeken, etc.
Ook kunt u een kopje koffie of thee komen drinken en hebben we Zuid-Afrikaanse bobotie én oer-Hollandse erwtensoep klaar staan.
Alles voor een mooi prijsje uiteraard. Maar we willen ook de erwtensoep aanbieden op bestelling en die kunt u dan tijdens de markt afhalen, twee porties voor 3 euro en vier porties voor 5 euro.
Om alles in goede banen te leiden, kunnen we nog wel wat hulp gebruiken. Voor hulp bij de markt op vrijdag en zaterdag en het aanleveren van spullen kunt u zich melden bij Cathy (06 383 776 68) of Willie (06 204 950 57). Voor de erwtensoepactie kunt u zich melden bij Barbara (06 108 887 49, of per e-mail : Bsteen1977@gmail.com ) als u een pannetje soep wilt maken. Ook voor de bestellingen voor de erwtensoep kun u bij Barbara terecht.
Thuisfrontcommissie Rainbow Angels
Hans, Willie, Barbara, Raymond en Cathy