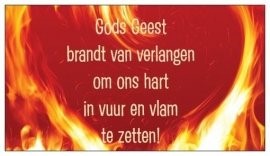 Pinksteren 2021: Komt u en kom jij ook in beweging?
Op zondag 23 mei a.s. vieren wij het Pinksterfeest.…..het feest waarbij we ons opnieuw mogen laten inspireren door Zijn Geest en in beweging mogen komen om het vuur van Zijn liefde dat binnen in ons is, te delen met de mensen om ons heen! Komt u en kom jij ook in beweging met de volgende activiteiten?
 Pinkster-vossenjacht voor alle kinderen
Na de Pinksterdienst in de Dorpskerk wordt er vanaf 11.00 uur een Pinkster-vossenjacht georganiseerd voor alle kinderen. Om de vossenjacht 'coronaproof' te laten verlopen, krijgen de kinderen die zich opgeven een tijdstip tussen 11.00 en 11.30 uur waarop zij bij de Dorpskerk starten. De kinderen kunnen bijvoorbeeld samen met hun mamma, pappa, opa en/of oma in een gedeelte van Heerjansdam vijf 'vossen' vinden en van elke 'vos' ontvangen zij een papieren Pinkstervlam. De wandeling duurt maximaal een uur. Als de kinderen alle vijf de vlammetjes hebben verzameld komen ze terug bij de kerk en krijgen ze een kleine verrassing. Opgeven kan tot en met uiterlijk donderdag 20 mei a.s. bij Barbara Steen, e-mail: bsteen1977@gmail.com, tel. 0610888749.
Pinksterattentie
Na de Pinksterdienst bent u van harte welkom om te voet, op de fiets of met de auto naar de kerk te komen om een Pinksterattentie op te halen. En als u wilt kunt u er ook één of een paar extra meenemen om bijvoorbeeld te geven aan een buur, een vriend of iemand die niet naar de kerk kan komen. Om ervoor te zorgen dat niet iedereen tegelijk naar de kerk toekomt, heeft u daarvoor alle tijd want wij zijn vanaf het einde van de Pinksterdienst tot 12.30 uur buiten aanwezig om u deze Pinkstergroet te overhandigen……we hopen u en jullie te mogen begroeten!
Een hartelijke groet,
Barbara Steen, Hannelore van der Maas en Mariëlle van der Noll