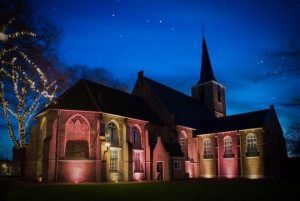 Op zondag 20 december a.s. om 19.30u bent u van harte welkom om de DorpsKerstZang 2020 bij te wonen. Het verschil met voorgaande jaren is, dat u dit jaar niet door weer en wind naar de kerk hoeft te komen, maar dat u thuis met wellicht andere huisgenoten èn een lekker kopje koffie/thee van achter de computer of i-pad van een mooie Dorpskerstzang kunt genieten!
Deze Dorpskerstzang 2020 is een compilatie van opnames uit 2019,van zowel de Dorpskerk in Heerjansdam als opnames van de Maranathakerk in Rhoon. De bijdragen van dhr. Wim Wiersma en ds. Coen van Alphen uit Rhoon zullen dit jaar de rode draad in het geheel zijn en deze zijn wel dit jaar nieuw opgenomen.
U kunt tijdens de DorpsKerstZang genieten van prachtige liederen gezongen door het  I.J.E.-koor, het I.J.E.-gelegenheidskoor en er kan thuis volop worden meegezongen met algemeen bekende kerstliederen. Met in totaal meer dan 100 zangers, zangeressen en muzikanten belooft de DorpsKerstZang 2020 wederom een bijzonder geheel te worden. We nodigen u van harte uit om online aanwezig te zijn. Iedereen is welkom!
In het bijzonder ook wanneer u wellicht minder bekend bent met de boodschap van kerst! Voor het beluisteren van de dienst en het meebeleven, kunt u de video vinden op YouTube -DorpsKerstZang 2020.
Voor verdere informatie: Wil Ouwerkerk, tel. 06-11249600 of email: w.ouwerkerk@intrada.nl
Wij, als comité DKZ hopen op een goede bezetting!